Modeled on Tokyo Midtown where artistic elements blend with the architecture and green space sets the backdrop for YOHO Midtown. The development is designed for the young at heart and people looking for a trendy lifestyle.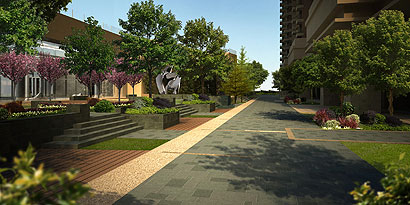 A total of eight residential towers will provide 1,890 units with unit size ranging from 400 to 1,400 sq ft. A choice of one to four bedroom and special units are available.
The top four floors of Towers M1 to M5 and M6 to M9 are Crystal Mansions. These units will feature unique glass walls and floor-to-ceiling windows that cost twice as much as those in standard units.
The developers will be investing HK$6 million to add aesthetic touch to the interior design, finishing materials and decoration of the project. Every corner of the property will have an artistic ambience.
Following the success of Yoho Town phase I, YOHO Midtown will make it a distinctive new residence in New Territories West. A total of eight towers are arranged in an 'L' shape and built atop a shopping mall. The towers will be among the tallest in the district upon completion.
Horticultural showcase

Being modeled on Tokyo Midtown, the project will incorporate artistic elements and vast greenery to provide a haven for residents to escape from the hustle and bustle of the city. The garden will be landscaped as a large MIDTOWN tableau with the 'blue' of the outdoor swimming pool as the core. Green foliage will stretch out to symbolize YOHO resident's spirit to spread happiness and the view from the top will create a pleasing visual effect.
More than 700 trees will be planted throughout the development. Two piazzas on the ground floor will be filled with rare trees and next to these will be MIDTOWN Park; a 27,000 sq ft lawn with colorful, artistic flora that will be a horticultural showcase revealing the natural beauty of the changing seasons just like Tokyo Midtown.
Master sculptures
The interior will be filled with artistic elements. Internationally-renowned sculptor Aries Lee will create three large artworks for the development symbolizing the art of interpersonal and social communication.
The sculptures 'Echo', 'Conversation' and 'Integration' will be displayed at different locations to highlight their special meanings. 'Echo' at the entrance to the ground floor atrium will reflect the responsive and caring emotions individuals feel for society, and 'Conversation' on the fifth floor podium will echo the happy dialogue. 'Integration' in the clubhouse lobby will emphasize the energy and vitality resulting from effective communication.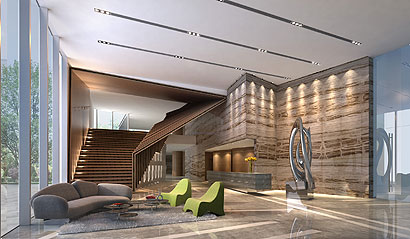 Clubhouse

In order to project the unique 'MeWe' living concept, HK$300 million will be spent on the landscaped area and open space to enhance Club MIDTOWN.
With a gross floor area of 220,000 sq ft and spread over four floors, Club MIDTOWN will have a diverse range of facilities to suit the 'MeWe' happy living concept, including a 50-metre outdoor swimming pool, a 25-metre indoor pool, two luxurious banquet rooms and a kitchen classroom with an organic garden.
There will also be exclusive Director and Executive villas for residents to share time with friends and family. The greenthemed Director Villa will cover 900 sq ft and include a 10-metre swimming pool with changing rooms. A large TV in the living room will make playing Wii and watching movies great fun, and there will be areas for cooking and dining.
The Executive Villa will cover 1,200 sq ft with a wood theme, including a 13-metre pool. Residents will be able to sing karaoke in the sitting room with a large TV or dine with guests outdoors.
A 6,000 sq ft barbeque area with seven landscaped barbeque zones equipped with running water, washing facilities and comfortable seating will be available for families and friends to get together and have fun.
A 24-hour Timeless Zone with facilities including billiards, darts, gym, stereo, projector screen, broadband internet and food and beverage service will be provided.
Developed by Sun Hung Kai Properties, YOHO Midtown is due for completion in December 2010.
Show suites

The developers have spent HK$100 million to create four show suites on the third floor of Sun Yuen Long Centre with different layouts.
Two-bedroom unit
The two-bedroom show flat has a MINE theme to reflect a young person just starting out on his own. The unit has a gross floor area of 653 sq ft with a 38 sq ft balcony. The rectangular dining room is highly functional with an exceptional 10-ft 8-in high ceiling.
The designers selected wood and quality stone for the interior to create a natural atmosphere. Artistic decoration suits a contemporary lifestyle and the exceptional ceiling height offers spaciousness. A large chandelier graces the spacious sitting room and floor-to-ceiling windows and a balcony admit daylight. Wooden furniture and soft lighting add stylishness and blend seamlessly with the balcony and sitting room.
The master bedroom has a built-in wardrobe with convenient storage. The unit is designed to be flexible. For example, the bedroom and adjoining dining room can be merged to create an additional living room or study. Residents can choose to have an open kitchen to add roominess.
Three-bedroom unit

EVOLVE is the theme of the three-bedroom en suite unit. The unit has a gross floor area of 897 sq ft and a 39 sq ft balcony.
The exceptional 10-ft 10-in floor-to-floor ceiling height allows maximum daylight and appealing views of the scenery outside.
The rectangular dining and sitting room is highly spacious. The inner part of the sitting room is shielded from sight for privacy. The master bedroom and guest room are also skillfully separated. The designers have enhanced functionality by avoiding unnecessary corridors to allow more space in the master bedroom. Flexible partitions in the two guest rooms allow residents to create a larger room or transform it into a study to meet different needs.